Gathering and analyzing data is an important aspect of every business, large or small. Identifying your strengths and weaknesses is key to sustainability or growth, whether it's recognizing underperforming products, or identifying potential areas of revenue. Party Center Software's Reporting System allows you to gather data to assess the overall health of your business.
To view the Knowledge Base articles on these new reports themselves, click here.
To access Party Center Software's Reporting System, select the Reports tab in the navigation bar. The Reports Menu will appear on the left of the screen as pictured below. Here we will focus on the layout and features of this menu to help you get the most out of Party Center Software's Reports.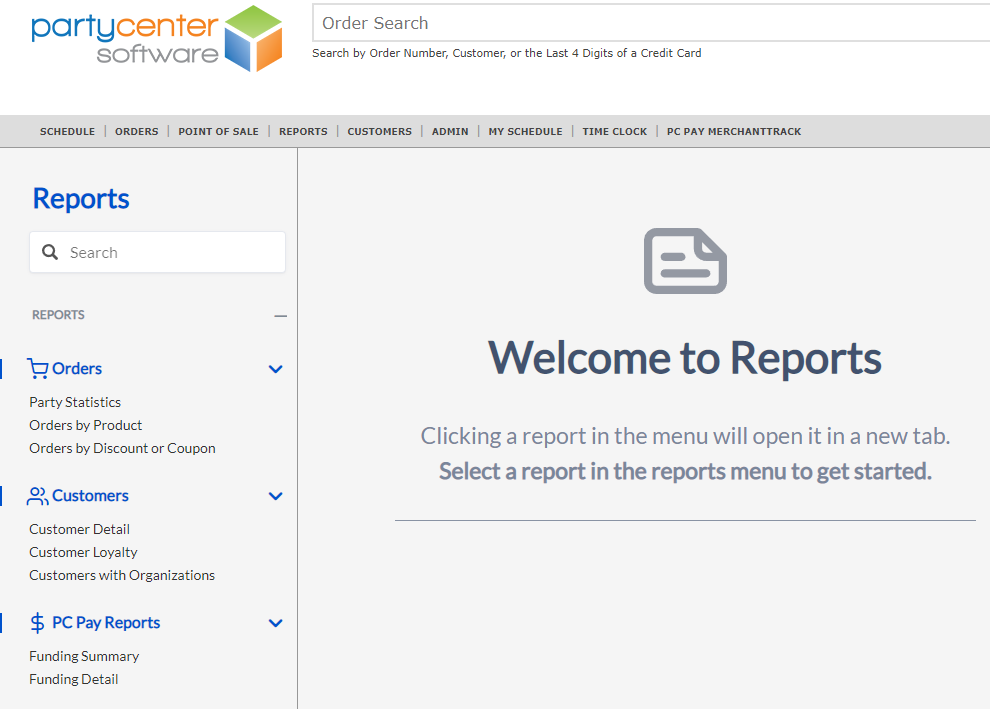 When accessing the Reports Menu, we see the category or types of reports available. Pictured above, we have Orders, Customers, and Legacy based reports. A search bar at the top of the Reporting Menu allows you to directly search the name of a report. New reports will continuously be added to the Reporting System, so you may see additional reports from the time of this writing.
After selecting your search criteria, click the Run Report button to generate your report, which will populate below the search criteria.

Export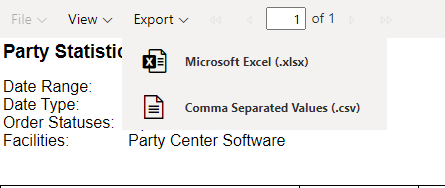 The Export Drop Down Menu will allow the report to be exported to either Excel, PDF, or CSV formats.
This allows you to save the report, as well as manipulate the results in a program of your choosing.


Legacy Reports
If you still need to utilize reports from our previous reporting system, Legacy Reports are available under the Legacy Reports category in the reporting menu.