The Policies section allows you to add specialized policies to the Online Booking Module. Your customer will be required to click a confirmation policy box before continuing to the next step. This ensures that they claim to have read and agreed with the policy.
Creating Policies
From the Admin page, select "Policies" under the online booking section.
In the top right corner of the page, select "Add New Policy".
Enter in the policy title; this is for internal reference only.
Add policy information in the text box. You have the option to include text, images, tables, and links in this section. This is the text that the customer will see when booking online.
Click "Add Policy" to save and create the policy.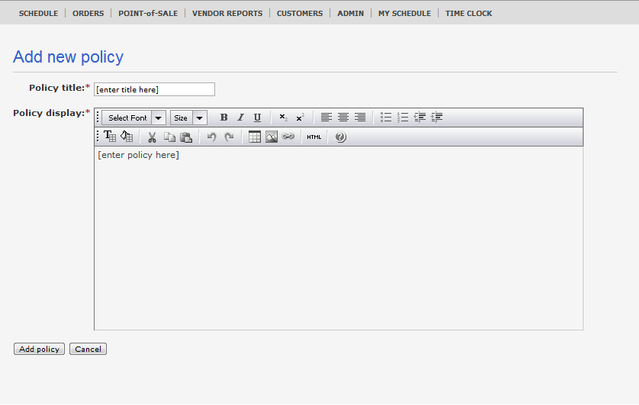 Existing Policies
This section allows you to add a new policy, click on an existing policy, and change the order in which the policies appear by clicking up or down. Clicking on any policy will let you view and change any information about it.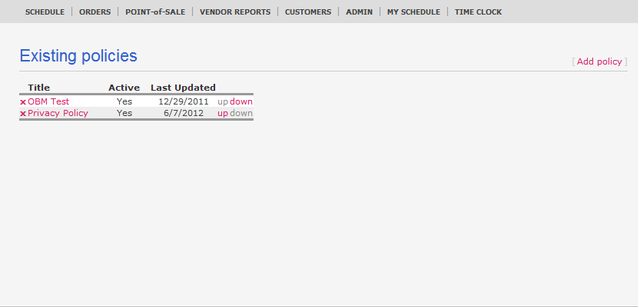 View Policy
This section allows you to view the following information about an existing policy:
Policy title: The internal name for the policy
Policy status (Active or Inactive): Whether the policy is available for use or not
Created on: When the policy was created
Last Updated: When the policy was last changed
Policy Display: This is the text of the policy
Applies to: Policies can be applied to individual parties; this lists out which parties the policies is currently set to show up for.
Clicking "Edit Policy" allows you to edit these fields.