As a Party Center Software user, you want to be sure you are getting the most value out of your online party booking platform. To do this, it takes more than the bare minimum of getting your site up and running. We are happy to share the best practices that are being used to increase online party bookings and show how you can do the same for your site.
In this article, we will focus on what can be done directly in Party Center Software as well as tips for your facility's website
Party Center Software Best Practices
The following can be configured in your PCS Portal
Party Images and Descriptions
Well thought out images are a huge factor in helping a customer decide if they are going to book the party. If a customer can see themselves in the image of the party, having a blast with their family, they are much more likely to consider the party.
Having a description to go along with the image can help answer most of the questions a customer may have about the party. Make sure to have a bulleted list of what is included in the party vs a long-running paragraph.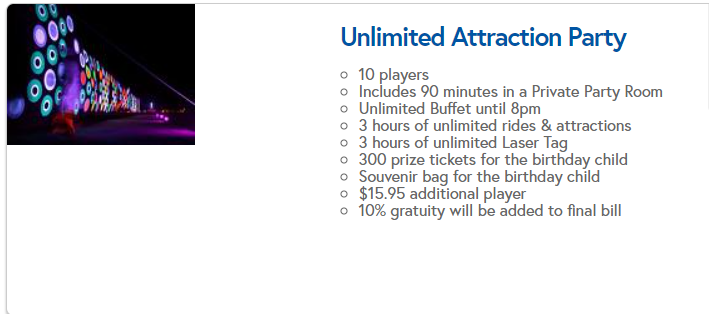 Party Add On Items
While your parties are sure to include many goodies, it's a good idea to offer a few additional suggestions. Be sure to include additional options for food, drinks, decorations, desserts, or additional playtime for each party. Being able to add additional items can help improve the party experience for the customer and of course is good for your facility.
Don't forget to add great images and descriptions for each add-on item!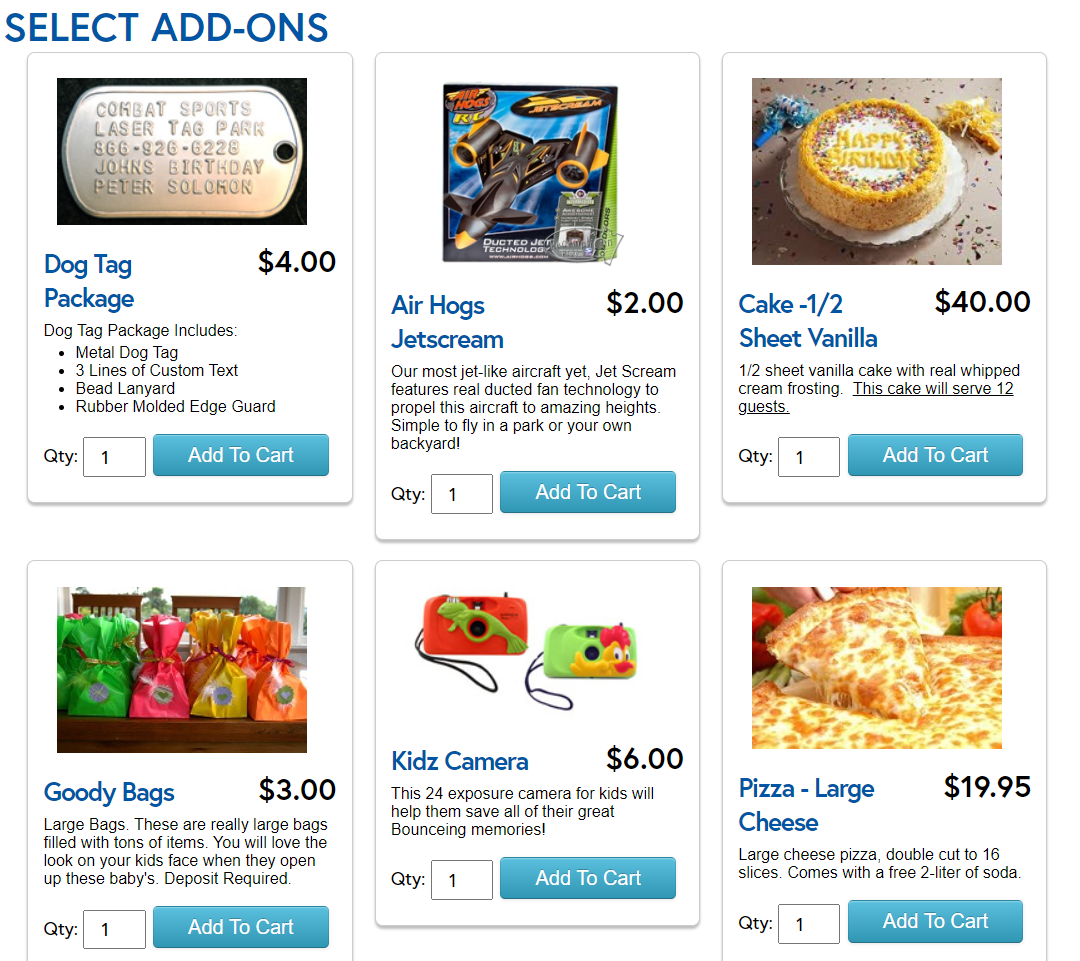 Online Booking Website Theme
When you join us at Party Center Software, we make sure to design a theme for your online booking page so it matches your facility's website. We want you to be happy with how it looks and we want your customers to have a seamless experience when they go from your facility's website to your online party booking.
If you would like your online party booking theme to be redesigned, please reach out to your Customer Success Manager and review our article on Online Booking Themes!
Online Party Deposits
While we never want to turn away guests, sometimes we reach our maximum capacity, especially on the weekends. To ensure undecided customers are less likely to take up your valuable party space, ensure you have party deposits set up for your online booking site. People will be less likely to cancel if they understand they have to put down a deposit.
If you have questions about setting up payments for online party deposits, please contact your Customer Success Manager and review our article on Party Center Pay!
Policies
Whether it's "No outside food", "You must wear socks" or "Deposits are non-refundable" you must have your policies clearly displayed to your customers, especially if you plan to uphold them against any challengers.
Be sure to add all of your policies to the Policies Page on your online party booking site. This will ensure your customers not only see, but actively acknowledge and agree to your policies. This simple step can save a lot of headaches down the road.
Additionally, you can set up the Cancellation Policy and Privacy Policy in your Online Booking Settings. These policies show up at the end of the customer's checkout process. You can never be too careful when making sure you are covered.
You can review our help article on setting up Policies here!
Text Sets
If you want to add additional information to any part of the online booking process, you can add a custom text set. Take a look at our Text Sets Help Center article to learn more.
Party Guest Counts
Each Family Entertainment Center has different amounts of party rooms, guest capacities, and overall party tiers they can accommodate. Be sure each of your parties is configured correctly for your guest capacity. The last thing you want is a party of 30 showing up when you can only accommodate 15.
Updating Schedule Blocks
Your schedule blocks are the key to your online booking process running smoothly. If you created schedule blocks for one year, be sure to check them at the end of the year. Can't remember? Take a look and make a note of when your schedule blocks will expire and be sure to create new ones when they do.
Review our article on Schedule Blocks here!
Online Booking Settings
Customizing your online booking settings is important. When your facility is new to Party Center Software, default settings are uploaded. These default settings may not accurately reflect your facility. These settings include messages that customers will see when booking a party, emails used for online booking confirmations, and even some Google Analytics info if you want to get into the nitty-gritty.
Click here to be taken to our article on the Online Booking Settings Page!
Facility Info Settings
Once a customer has booked a party, they will receive an email confirmation. Your Facility Info is where you can customize all the messages on your customer's email confirmation. Default messages are loaded, but if these do not accurately reflect your facility, be sure to customize your settings in Facility Info.
All of the above can be done directly in your Party Center Software Portal. We are not done here, however! There is more that can be done to increase your online party booking on your facility's website.
You can see how to edit your Facility Info settings here!
Facility Website Best Practices
Party Center Software cannot directly assist with your facility website but we can guide you in the right direction. Click here to view our list of tips for increasing party bookings on your facility's website
If you feel a little overwhelmed, it's ok. Your Customer Success Manager is here to help! Reach out if you need any assistance with these best practices. Not sure who your Customer Success Manager is? Contact our support team and they can connect you with the right person.