MerchantTrack has a variety of reports about transactions, funding, chargebacks, and your overall Merchant Statement. There a few quick terms to know:
Funding ID: This is an individual deposit into your bank account, made up of a 24 hour period's worth of transactions, which is created at the batching time (by default at 3:00 AM Local).
Table of Contents
Funding Summary Report
The Funding Summary report displays all of your Funding IDs in a summary format, giving you the number of transactions that make up the funding ID and their totals for sales, refunds, chargebacks, and fees, as well as the date they were made available to your bank.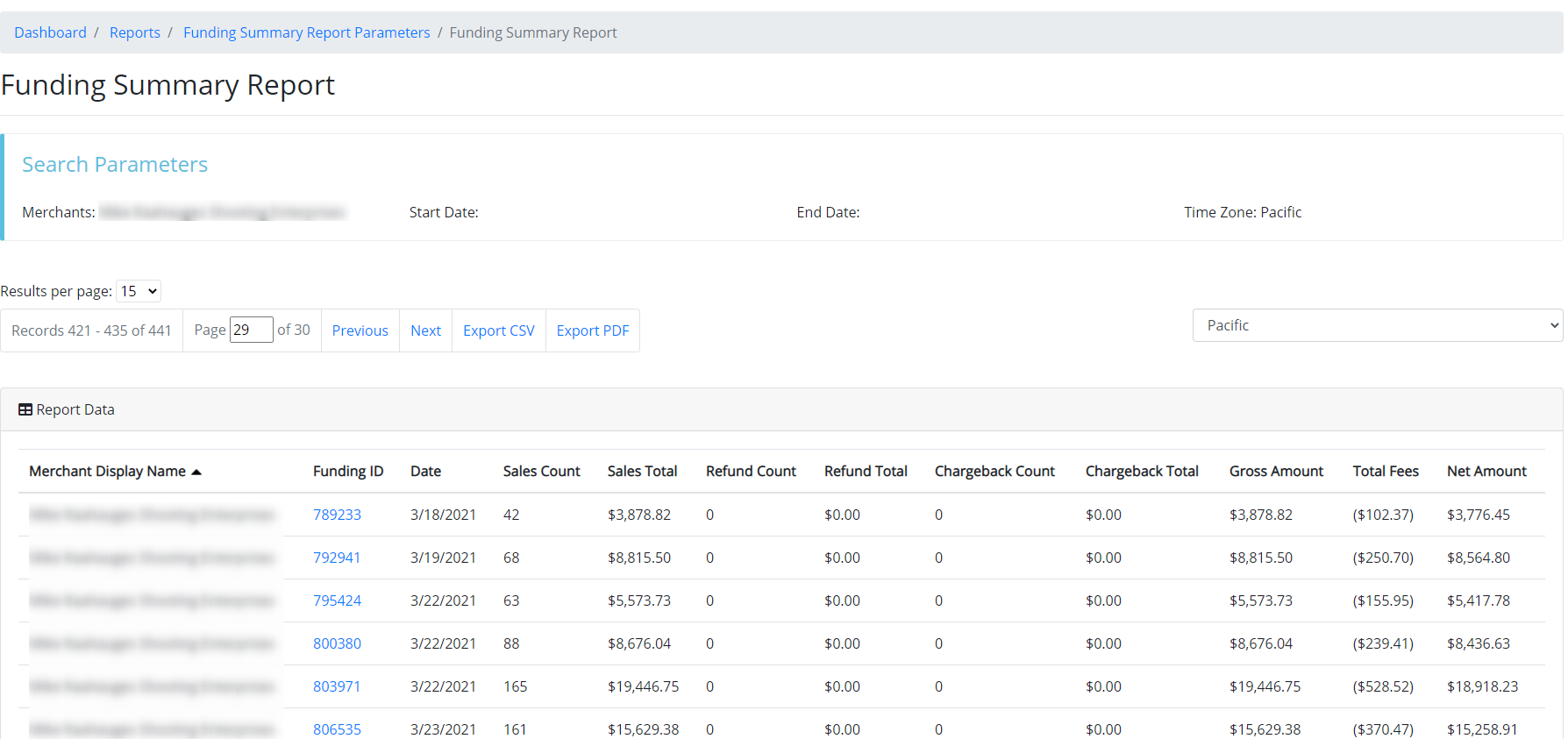 From here, you can click on the funding ID to see more information about the individual Funding IDs, like the specific sales (or transactions), refunds, chargebacks, and fees that made them up.
This report is good for matching up your deposits showing in your bank account and finding more information about what makes them up.
Transaction Summary Report
The Transaction Summary report is good for seeing exactly how many transactions and the grand total for each time period that occurred through Party Center Pay. You can select several different parameters to change what shows on the report.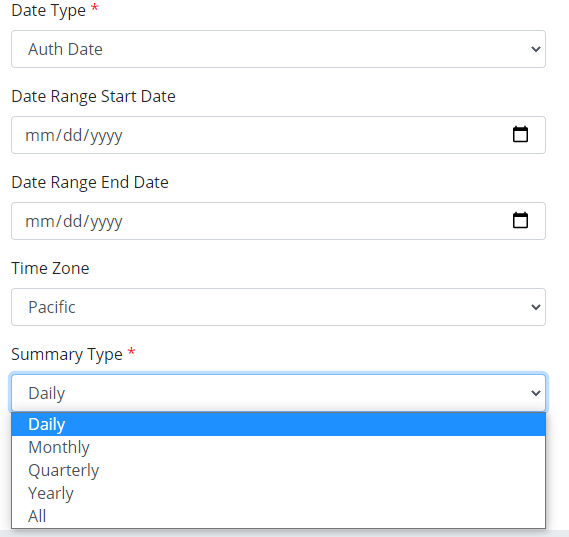 Once you have the report, the data is shown to you for each time period you selected. Note that this report does not allow you to select any of the lines to dig deeper into the data, other reports will that information, this report is good for quick summaries of transaction volume.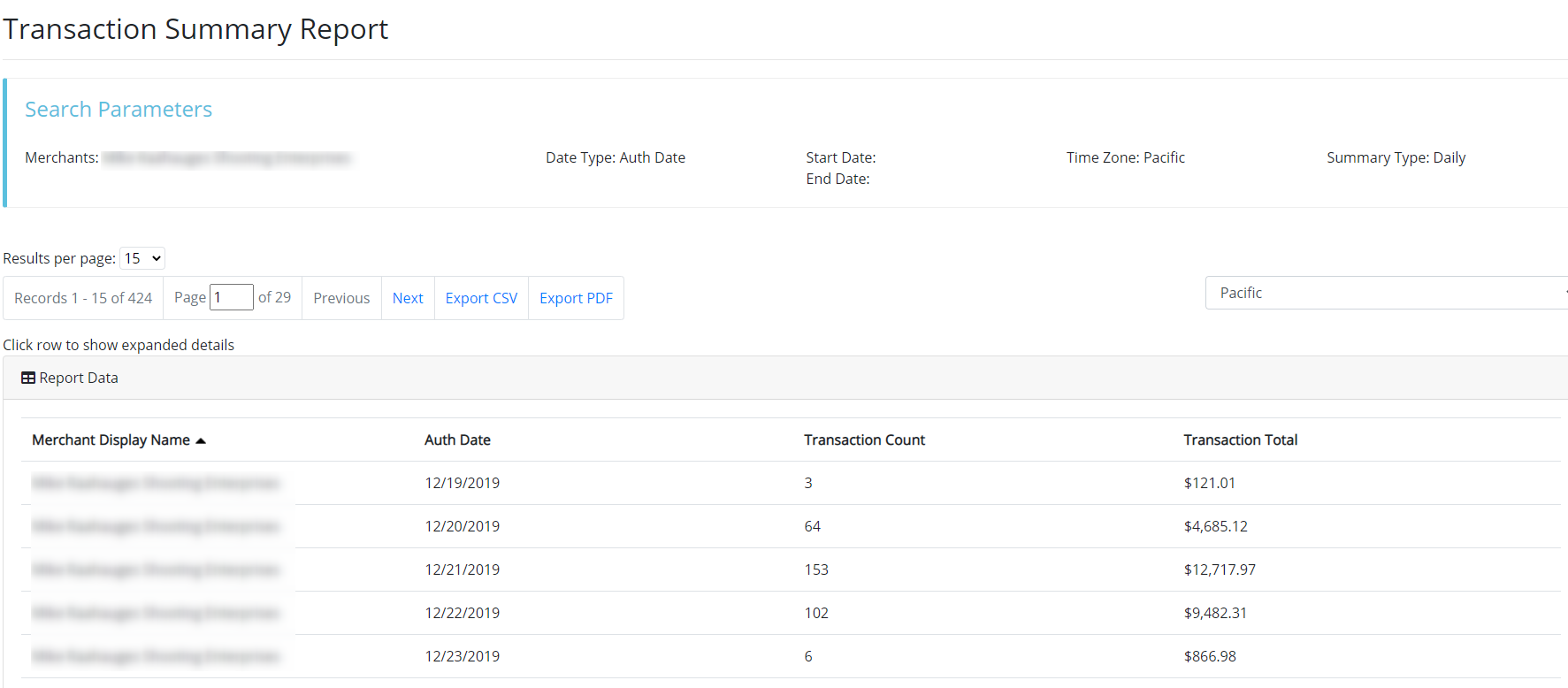 Funding by Transaction Report
The Funding by Transaction report is useful for reconciling your transactions and finding when they were put into a funding ID and sent to the bank.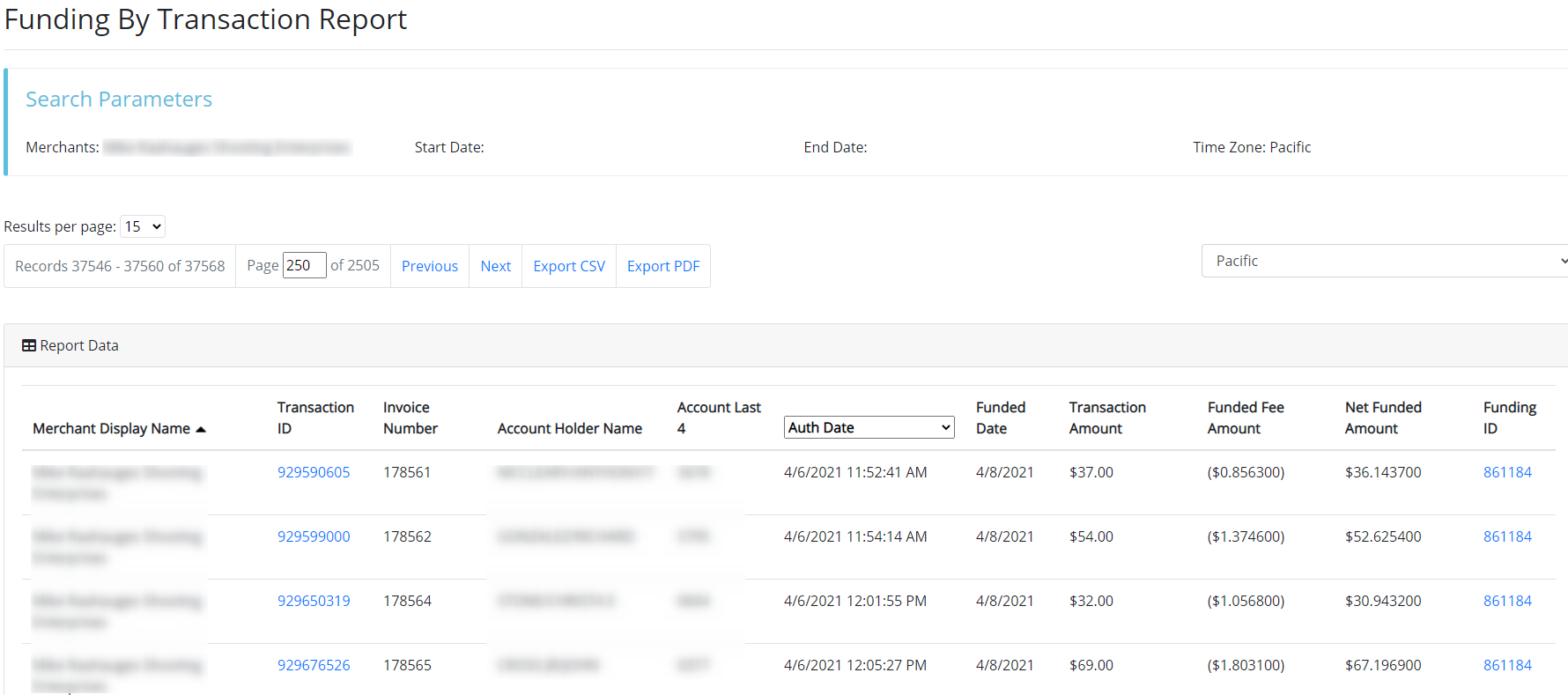 From here, you can see each transaction that was processed and the funding ID, if any, that it is a part of with its fee and total funded amount.
Funding By Line Item
This report is non-functional with Party Center Software as our system does not use line-item based invoices with Party Center Pay.
Chargeback Summary Report
This report will allow you to view a summary of chargebacks that have occurred per time period.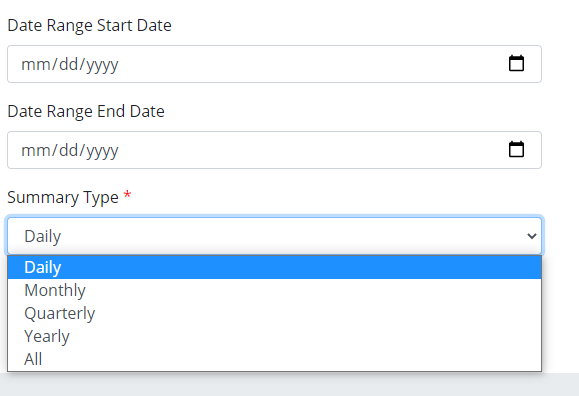 Once you have generated your report, this report does not allow you to drill-down for further information in the chargeback, and so this report is mostly useful for long-term summaries.

Chargeback Report
The chargeback report shows you all of your chargebacks in a given date range with the amount, reason code, and transaction associated. This allows you to review chargeback reasoning and amounts if you are unable to find the email communication from Fullsteam about your chargebacks.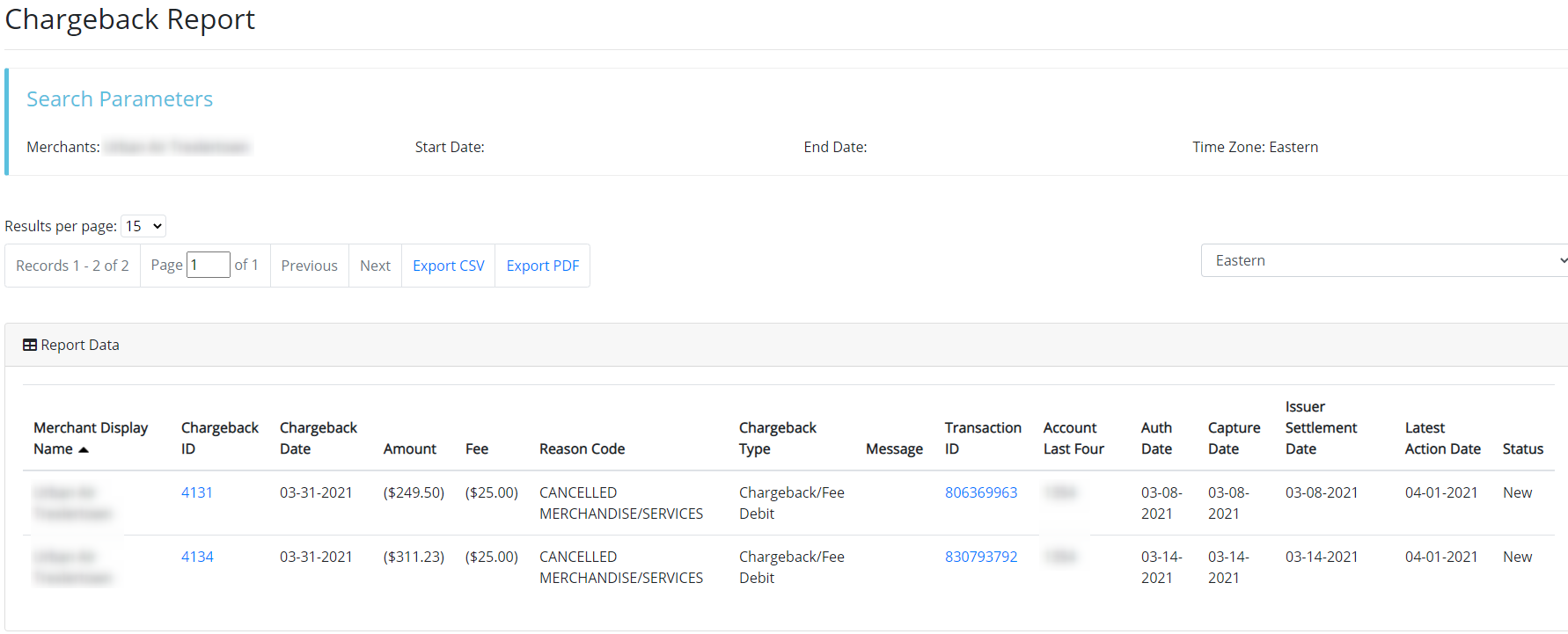 You can click on the Chargeback ID to view further information about that specific instance.
Transactions Report
Using this report, you can search for all transactions within a given date range and even specify for successful transactions, failed transactions, or all transactions.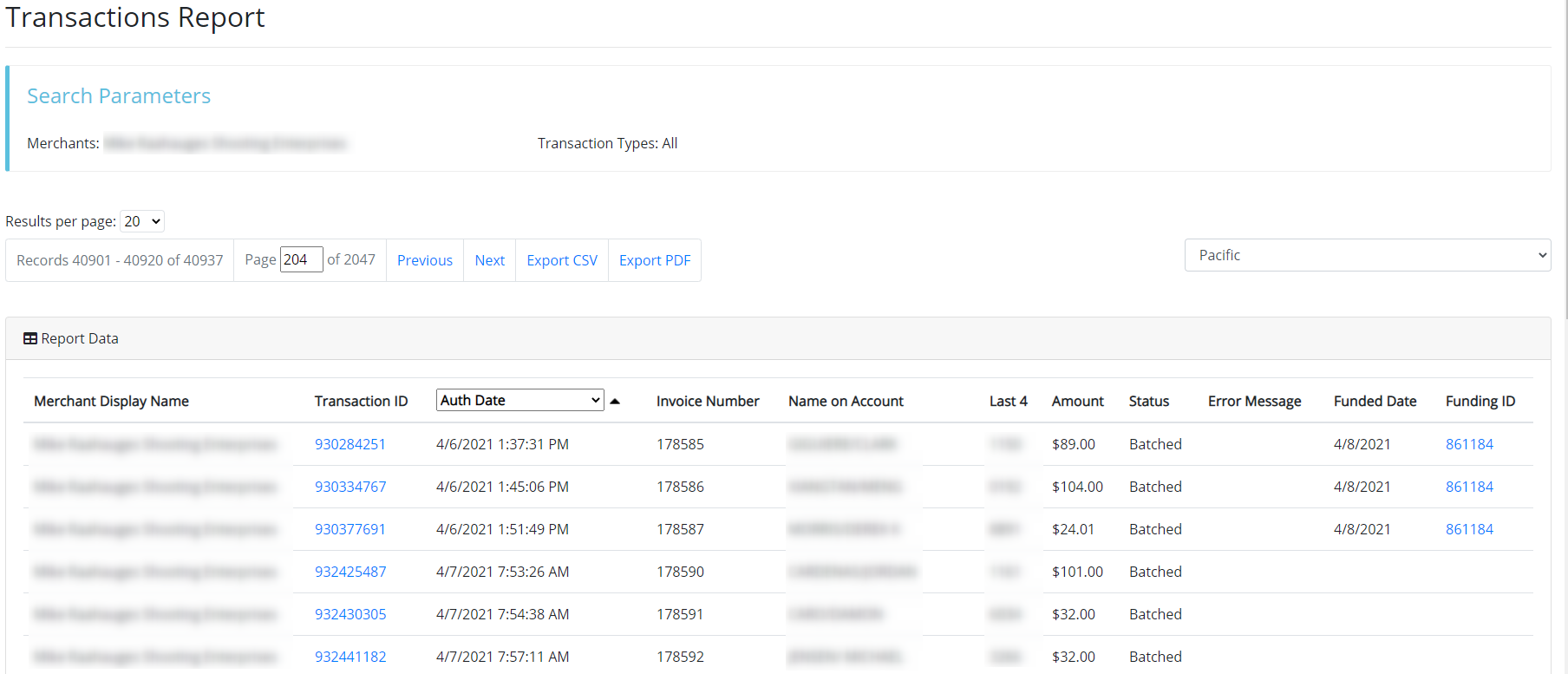 This report is great for looking at all failed transactions and looking for patterns in the error message received.
Merchant Statement
Your Merchant Statement is your document that contains all of the monthly activity of your Party Center Pay account, including transactions, funding, chargebacks, and fee. This is the best cumulative summary of your Party Center Pay account. Some Credit Processing companies mail you your statement, but we prefer to save paper and all of your Merchant Statements are always online and available for view. Merchant Statements are generated on a monthly basis on the 5th of the following month (ie 5th of Feb for Jan statement).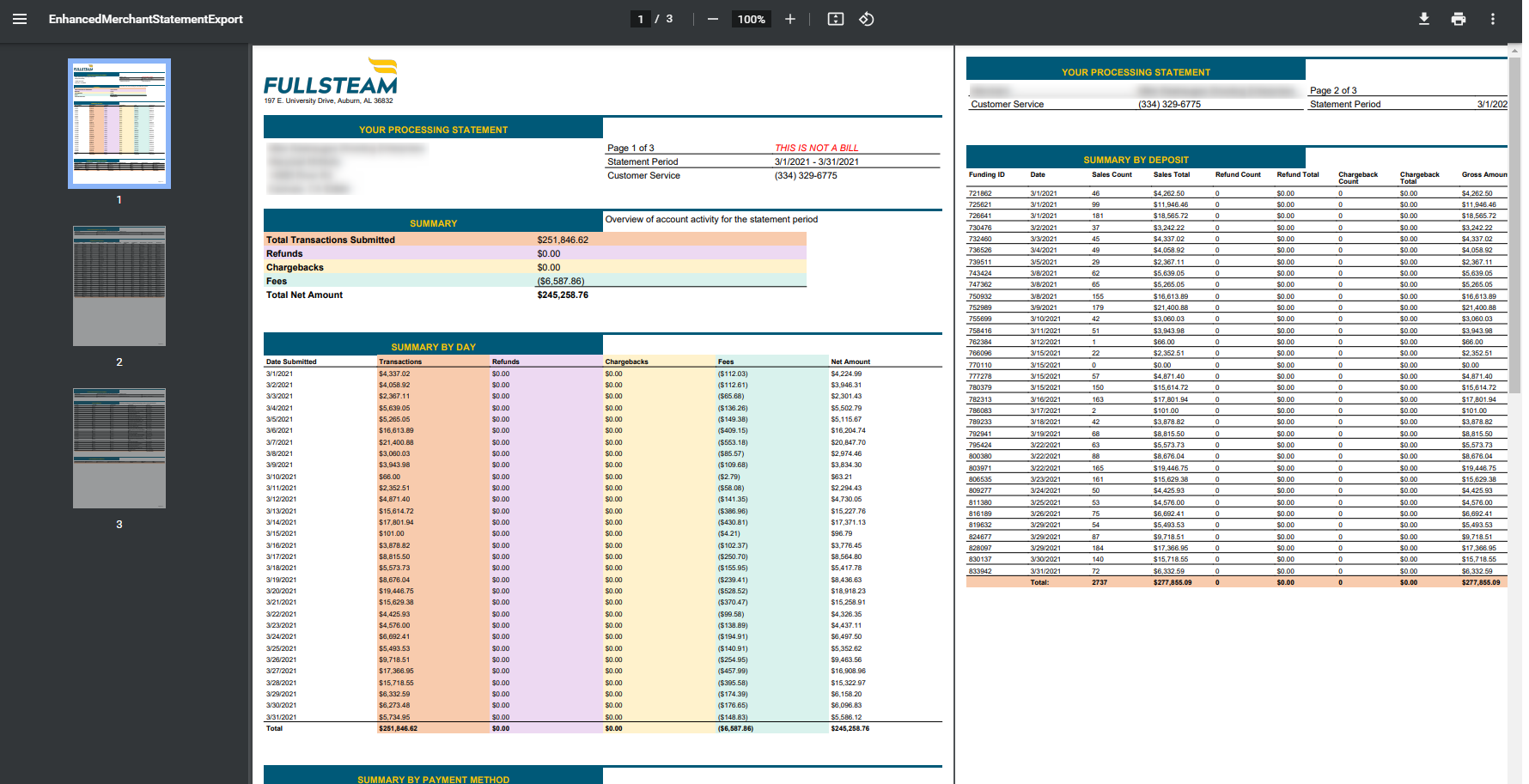 Note: Non-transactional fees (monthly fee, VISA and other cardholder fees, terminal lease fees) are posted the following month i.e. February monthly fees are posted in March.9
Merchant Deposit Statement
This report gives the same information that is included in the Merchant Statement but is formatted in a more easily digestible format, rather than the formal format of the normal statement.