As your facility grows and becomes more popular, it can be valuable knowing how your customers are learning about your facility. Whether it's a Facebook ad, your website, or by word of mouth, knowing the most effective means of advertising your facility can save time and money. Party Center Software's Referral Sources tool can help you keep track of and organize how people are hearing about your facility.
When creating an account for a customer or a customer creates an account online, there is an optional field called "Referred by:". This field can be used to identify where the customer learned about your facility. This field can be set to 'Required' or 'Optional' for a customer to fill out (See Managing Customer Accounts).

We can edit what options show in the drop-down list by going to your PCS Portal, clicking on the ADMIN page, and selecting Referral Sources under the Account Settings heading.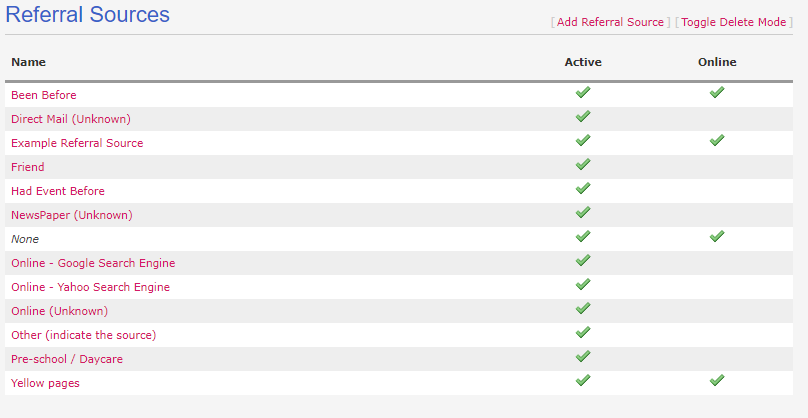 As pictured above, you will have a default list of referral sources available. You can delete any entry in the list by using the Toggle Delete Mode button in the top right of the screen and clicking the 'x' that appears next to the name. New referral sources can be added by using the Add Referral Source button at the top right of the screen.
By default, each referral source will be an option when adding a customer account on the management side of the software (when you create an account for the customer). If you would like a referral source to be an option when a customer creates an account online, you will have to select the referral source from the list and make sure Online Booking is set to Yes. Referral Sources that are available for online customer account creation will have a checkmark under the Online column on the Referral Sources page.