Whether your customers are booking a large birthday party online, or purchasing a drink at your Point of Sale, we need a simple, organized way to find and reference Orders. Party Center Software's Order Page allows us to effectively do this with minimal effort. This article will discuss how to use and navigate the Order Page. Select the Orders tab in the navigation bar to get started!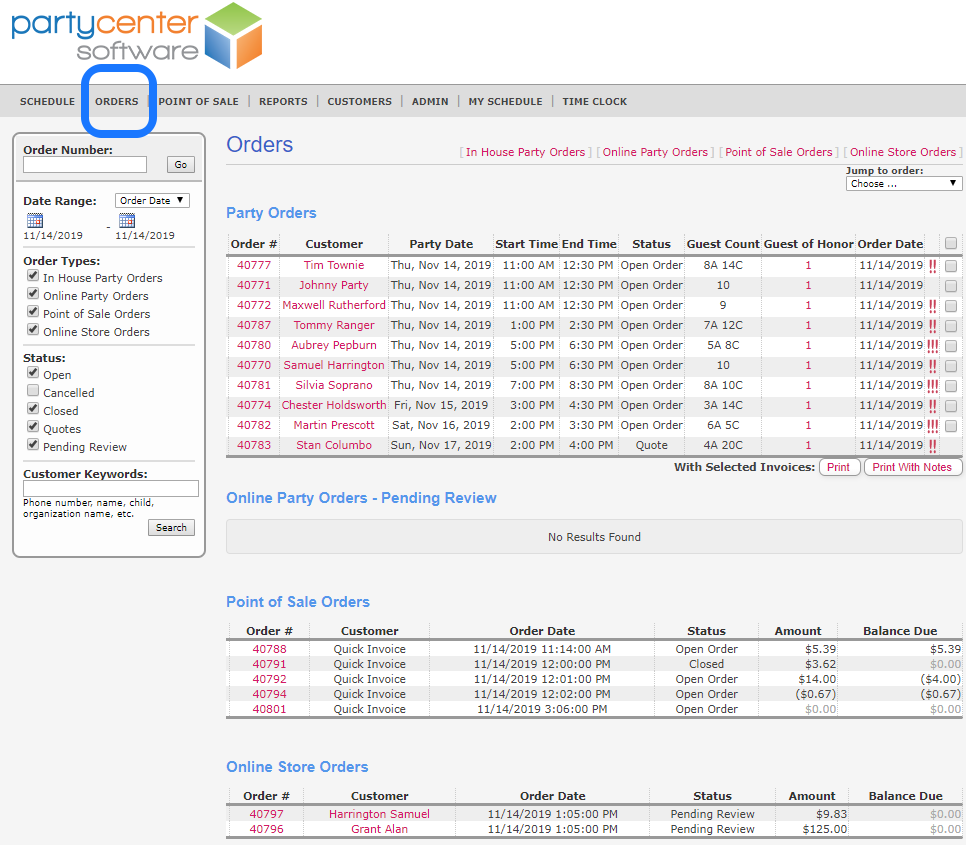 The Orders Page
The Orders Page divides Orders into four categories:
Party Orders: Party orders that are scheduled and approved are placed in this category. By default, this section will display both In-House Party Orders and Online Party Orders with either an Order Date or Party Date for the specified date range (11/14/2019 pictured above).
Online Party Orders - Pending Review



Any party orders booked online will first show up in this category. Since we want our customers to have a great experience at our facility, these orders require a quality check for the customer and must be actively marked as "Open." This ensures the customer will have all expectations met when they arrive for their party. Once the order is marked as "Open" it will be moved to the Party Orders category.

Note: Online Orders in the "Pending Review - Online Order (in progress)" status should not be interfered with. This status shows us the customer is actively booking their party and any interruptions could affect the customer's party date. If the customer has not completed their order within 45 minutes, their session times out and the order is removed from the orders page.

Point of Sale Orders: Any orders generated in the Point of Sale will show up under this category.
Online Store Orders: Any sales from the Online Store will generate an order number and show up under this category.
A brief look at the Orders Page can tell us an Order number, Customer name, Party Date, Start Time, End Time, Status, Guest Count, Guest of Honor and Order Date. Clicking on the Order number will take you to the Order and selecting the Customer's name will take you to their Customer Account.
The option to print multiple Order Invoices is available at the bottom of the Party Orders category. Select a checkbox at the right and choose either Print or Print with Notes to print multiple Order Invoices at once.


Order Types
Orders in Party Center Software can have one of the four following Order Types:
In-House Party Orders: Orders that are generated by an employee booking a party for a customer, either in person or on the phone. They are created by booking a party from the Schedule tab in your Party Center Software Portal.
Online Party Orders: This type of order is generated when a customer books a party from the Online Booking Page.
Point of Sale Orders: Orders created in the Point of Sale.
Online Store Orders: Orders generated from sales in the Online Store.


We can filter the Orders Page by Order Type by selecting an Order Type from the menu above. The Jump to Order drop-down bar will take us directly to an Order by selecting the customer's name from the drop-down selection.


Order Search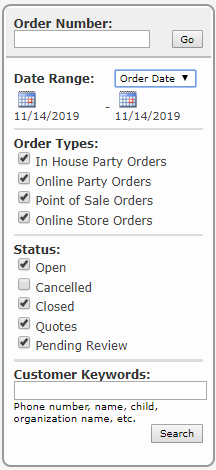 If you know an order number, you can enter it in the Order Number search bar and selecting "Go". If you do not know an order number, you can use the search tools to help narrow down your results.
Date Range: Selecting a date range will bring up two calendar buttons to select your specified range. Date Range can search by Today, Order Date, Party Date, or Any Date
Order Types: Filtering Order Types in your search results can help narrow down your selection, making orders more easy to find (See Order Types for additional information).
Status: Orders can have any of the following Statuses:

Open: Orders that are approved and on the schedule.
Cancelled: Orders that customers no longer want to proceed with and have no un-refunded payments made, can be marked as cancelled.
Closed: Orders that have been paid and if have a Party Date that has already occurred, can be marked as closed.
Quotes: Orders that are only providing a customer an estimate of a party price can be marked as Quotes.
Pending Review: Online Party Orders that have not yet been approved by a staff member are in the Pending Review status.

Customer Keywords: Any additional information that can help find an order, such as phone numbers, names, or organizations can be entered here.