How to Install Your Epson Receipt Printer
Setting Up Your Epson Receipt Printer
Removing Epson Advanced Printer Driver
Epson's standard Windows printer driver for their POS printers will often conflict with Epson's own OPOS system. It is best to remove this before continuing with the OPOS setup. To do this, open Windows Control Panel, go to Uninstall a program and remove Epson Advanced Printer Driver.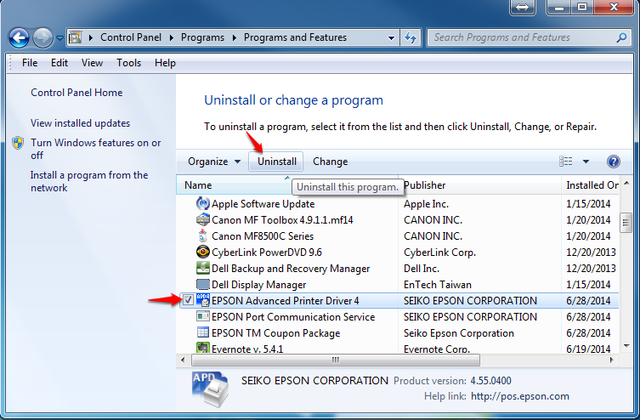 Installing Epson OPOS ADK
First, go to our downloads page here and locate and download the latest edition of Epson OPOS that we link to. It comes in the form of a self-extracting exe that will put everything into C:\ by default. For simplicity's sake, you may want to tell it to extract somewhere such as your Desktop or Downloads folders.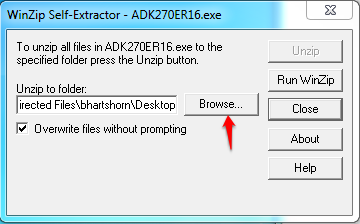 Next, we are going to install using no registry file, and install as a User.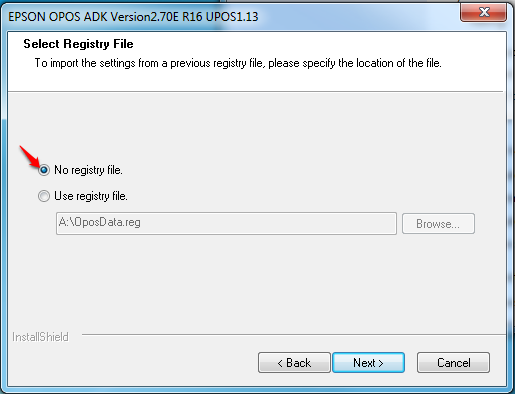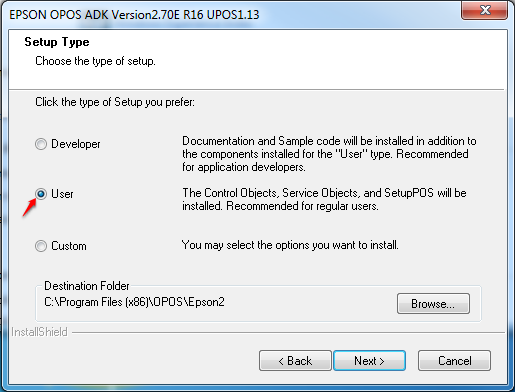 There are 5 options for supported interfaces. Check all that you will be using. When in doubt, check everything. In this example, we're including USB and Ethernet options.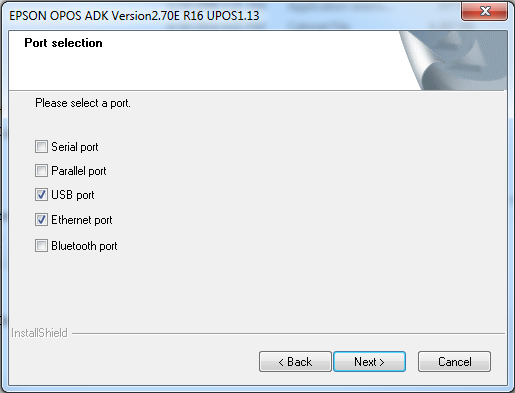 Continue through the prompts until Epson OPOS finishes installing. If the installer hangs at any point and does not finish, see troubleshooting below. This utility will install under All Programs as OPOS > SetupPOS Ver2.00.
Configuring your Epson receipt printer
First, right click on POSPrinter in Epson OPOS ADK and select Add New Device. On the following screen under Select Device Name, select the appropriate driver for your printer model. This is different than the Epson model number starting with "M". On the silver sticker either on the bottom or the side of your unit, next to where it says Epson in bold, you should see a device id typically starting with "TM". Select this on the menu.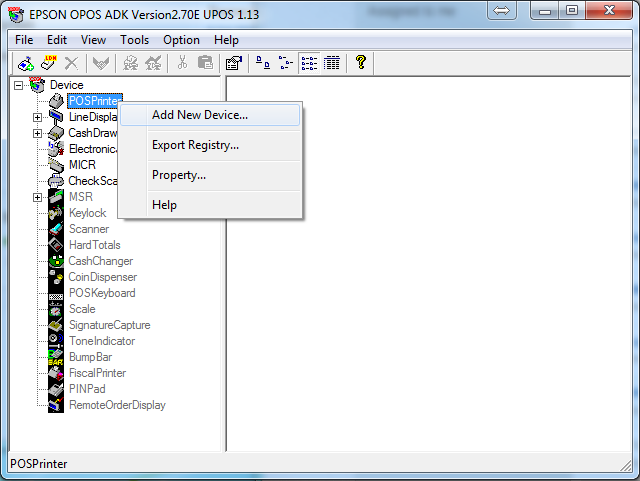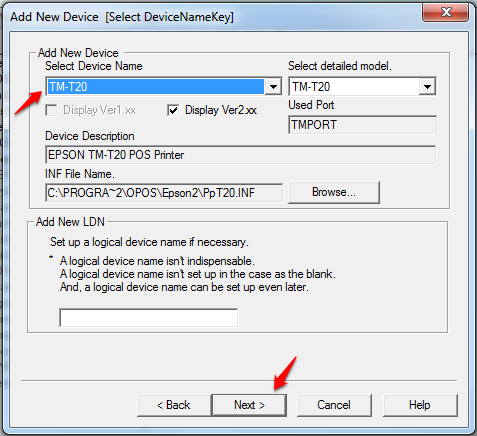 If your printer connects by USB
Unlike other connection methods, Epson OPOS will probe for USB attached devices and create the port setting automatically. It should show as TMPORT[n](USB)[Device Name]. This is a good time to double check that the device name matches the one you selected on the previous screen. If you're using a USB printer and this drop down shows(none) instead, see troubleshooting below. Hit the CheckHealth Interactive button to test the unit. It should print a small test ticket that may not protrude out the top all the way.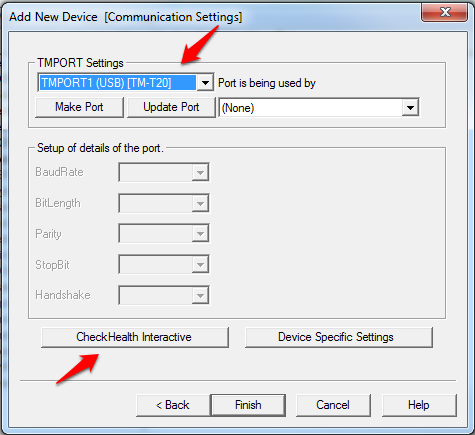 If your printer connects by Ethernet
This section assumes your Epson printer is already on your local area network with a valid IP address. If your Epson printer still needs to be configured for your network, see our help document about Epson NetConfig.
First we need to create a "port" for OPOS to access the printer through.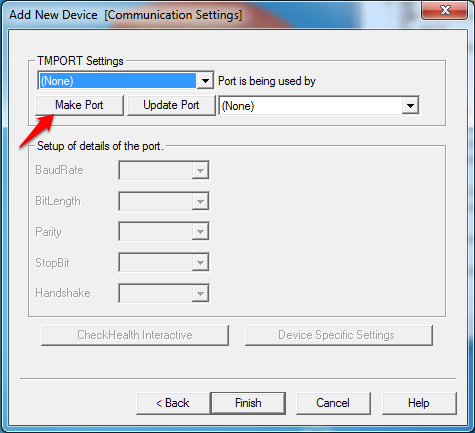 For Port Type, select NET. You'll now be able to enter the printer's IP address. If you have forgotten the IP address to your Epson printer, hold down the small reset button on the back of the unit (may require a pen to depress) just until it starts printing and release, at which point it will print a ticket with the IP address on it. Once the port is created, use CheckHealth Interactive to verify the unit is connecting. If you receive an error message, see the Troubleshooting section of our document about Epson NetConfig.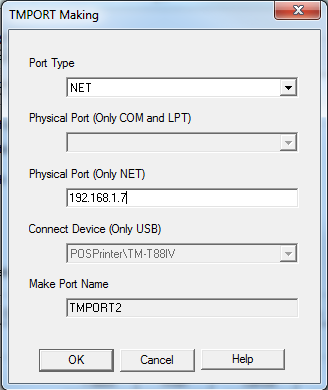 Configuring your cash drawer
This applies only if your cash drawer connects to your receipt printer. If your cash drawer connects directly to your computer, you will need to install the relevant OPOS utilities provided by the manufacturer.
If you have already configured your receipt printer, go to the device tree on the left side of SetupPOS, right click on Cash Drawer and select Add New Device.
Under Select Device Name, we have 3 options, Multi_A, Multi_B, and Standard. You may have to try all 3 drivers to find out which one works correctly with your drawer, but Multi_A is almost always the correct choice, so start there. Next where it says Select Detailed Model, you must select the identifier that indicates how your printer connects.
No additional character = Serial
P = Parallel
U = USB
E = Ethernet
B = Bluetooth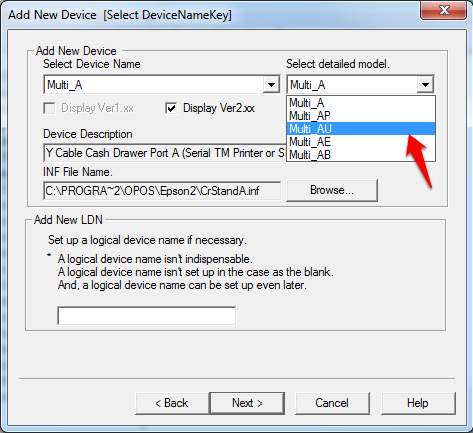 Next, you are going to come to a window that says Select Connection Type. Here we need to identify the receipt printer that the cash drawer is connected to. In my case, this is a TM-T20.
Use CheckHealth Interactive to verify the cash drawer opens. If it does not, try selecting the Multi_B or Standard drivers. If it doesn't work with any of the three, see troubleshooting below.
Configuring your Line Display
If you have an Epson DM-D110 Line Display, setup is very much like setting up a cash drawer. The instructions will vary slightly between USB and printer driven models.
If your line display connects to your printer
If you have already configured your receipt printer, go to the device tree on the left side of SetupPOS, right click on Line Display and select Add New Device.
There will be a few variations on the DM-D110 to choose from. Pick the one that adds the line EPSON DM-D110(PATH) Line Display in the "Device Description" field.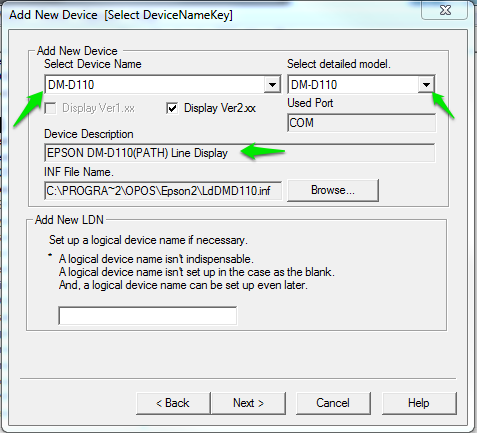 Next, select the printer that the display is connected to.
Run CheckHealth and a message should be appear on the line display.
If your line display connects directly
If it is a Serial/COM port display, go to Device Manager in Windows and look under Ports (COM & LPT). Identify the port showing a device branded as DM-D110-XXX.
If it is a USB display, you can try using the DM-D110U driver in Epson OPOS (but this author has not had success with it). If that fails, follow this link to install the DM Virtual COM Port Driver for your display.
Reboot after installing the driver and you should see a COM port in Device Manager with a DM-D110 connected to it. Open Properties on this, then click Advanced. We need to set this to the lowest numbered COM port that is not in use, otherwise Epson OPOS will likely ignore it.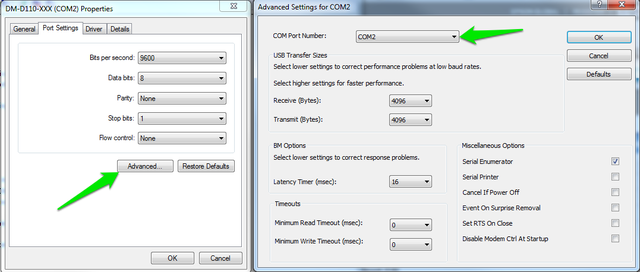 Right click on Line Display in Epson OPOS and click Add New Device. If using Virtual COM Port, select DM-D110 for detailed model, if not using a real or virtual COM port, select DM-D110U.
At the "Select Connection Type" screen, select "Stand alone"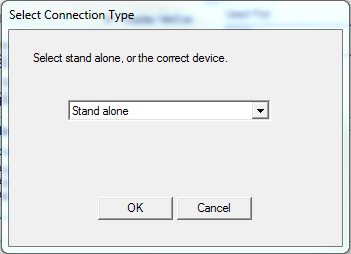 Run CheckHealth and the device should display a message.
Troubleshooting
Where Epson OPOS ADK stores its application data
When you uninstall Epson OPOS ADK, it leaves its settings and data behind. This is located inC:\ProgramData\EPSON. Removing the Epson folder can be a useful step in troubleshooting, and if moved to the desktop, can be replaced if necessary. This is a hidden folder. If you do not know how to show hidden files and folders in Windows, consult Microsoft's instructions here.
If Epson OPOS ADK will not install
On rare occasions, Epson OPOS ADK may stall at the beginning of, or during installation. This can often be due to a running application preventing it from installing. This can range from certain security suites to malware or other issues. Try disabling any security software you have running and try again.
If you still cannot get the application to install, reboot the computer into Safe Mode. If you do not know how to do this, use this link for Windows 8. Safe Mode prevents certain drivers and other applications from starting, and you shouldn't have any issues installing Epson OPOS here. Note: you likely will not be able to configure your hardware in Safe Mode. After Epson OPOS ADK has been installed, restart the computer normally, launch SetupPOS, and configure your hardware.
In rare cases, old entries in the Windows Registry from prior versions of Epson OPOS can cause the application to fail on install, generating an error of "This version does not support service packs". This can be resolved by removing Epson related folders from the Registry. If this happens, feel free to submit a help ticket so we can further document this issue.
If a USB printer will not pass CheckHealth
If the printer will not pass CheckHealth, or the port defaulted to (none) rather than having probed your printer, there could be a number of reasons for this. Start with this basic sequence:
* Close SetupPOS * Turn the printer OFF * Plug the printer into a different USB port * Turn the printer back ON
Do this even if you know the USB port is functional, as it forces Windows to re-evaluate the device.
If problems persist, let's start checking for the following:
Make sure Epson Advanced Printer Driver 4 is not installed
As mentioned at the beginning of the article, Epson APD will conflict with Epson OPOS ADK, and should be uninstalled using the Programs & Features section of Control Panel. In rare cases, the installation isn't quite complete, and we may have to clear some things out manually.
In Control Panel, go to Hardware and Sound > View Devices and Printers. If you see your Epson printer here, right click on it to remove it.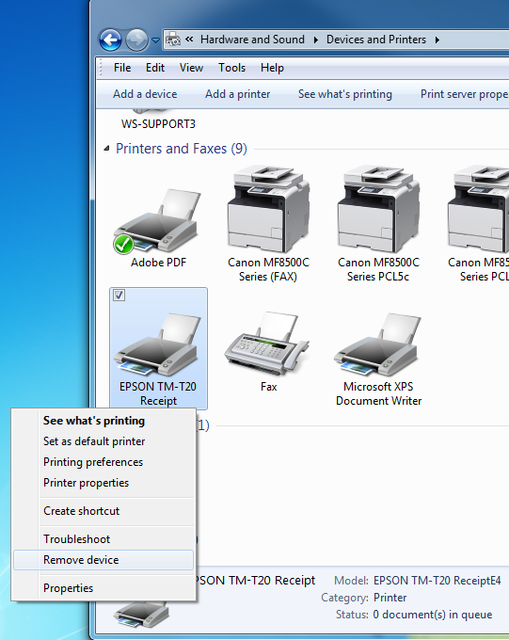 Next, go to Hardware and Sound > Device Manager. Browse through this tree and see if you can find your Epson model. If you do, check the Driver tab, click the Driver tab and select "Driver Details". If it says "No driver files are required or have been loaded for this device.", this is normal, disregard. Otherwise, uninstall and delete the driver in place.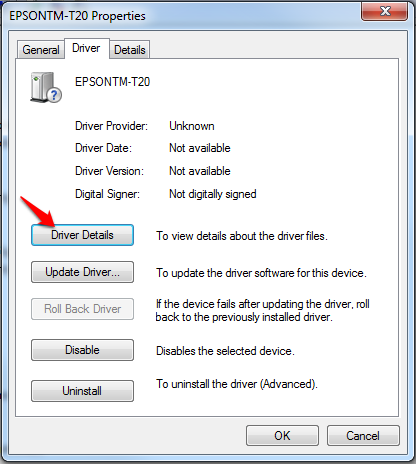 After this has been completed, restart the computer and consider the following troubleshooting step as well.
Completely remove and reinstall Epson OPOS ADK
Start off by uninstalling Epson OPOS ADK the same way you uninstall APD. Then, remove C:\ProgramData\EPSON from your system. Restart the computer and reinstall.
If issues persist
Other things to try include:
Try a different USB cable.
Disable any running security software.
Connect the printer to another computer to isolate to hardware.
If a network printer will not pass CheckHealth
Please see the troubleshooting section of our document on Epson NetConfig.
If a serial/parallel printer will not pass CheckHealth
Most of the same troubleshooting steps as the USB models apply, so start by referring to that section.
Other things to consider:
USB to Serial adapters tend to be unreliable, and may work intermittently.
Be sure to check that your BaudRate and other communication settings are correct. Hold down the "Feed" button as you power on the device until it prints this information.
If your cash drawer will not pass CheckHealth
Basic troubleshooting first. If you've completed all the steps in Configuring your cash drawer, try restarting the computer, reseating the RJ12 cable connecting it to the computer, and making sure that the drawer is not locked.
If the cash drawer hasn't worked with the cable you are using previously, make sure it is actually an RJ12 cable. Some users attempt to connect it with a standard phone cable, which has the same size connector, but does not utilize all of the pins (this cable type is RJ11). If the vendor of the cash drawer supplied a cable with it, you should probably be using that. Additionally, many APG brand cash drawers use proprietary cables that differ slightly from a standard RJ12, so if using an APG drawer, reach out to their technical support if you suspect the cable is an issue.
Another thing that can happen is the system may be confused about whether the drawer is closed or open. Under Device Specific Settings, look at "Open Status Phase". It will be set to high or low. Change this setting and see if problems persist.