There are a number of settings in Party Center Software specific to your receipt printer. These settings can be different for each POS Terminal in your facility to serve different needs. These include:
The station name.

The default screen for this station.

The number of characters wide the receipt printer will print.

How many receipts are printed for cash, check, credit/debit and prepaid transactions.

The text displayed at the footer of the receipt.

The idle text for your line display.
First, you'll need to select PCS Registers from the Admin screen.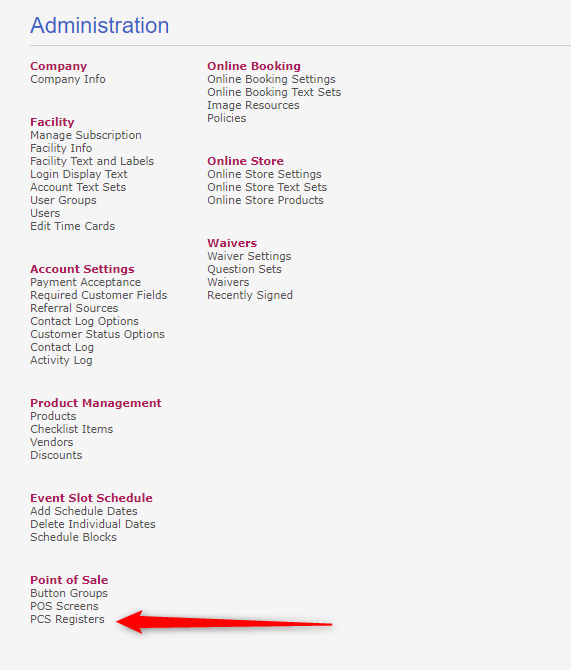 Next, select the POS station you wish to edit. They are listed by the names you gave them at setup, and each one can be configured differently. This can be helpful if you want different footers at different stations, or need extra receipts printed for certain admissions. If you are accessing the software through a register, an extra field will appear stating which register you are currently using.

At the final screen, you'll see the settings for that work station.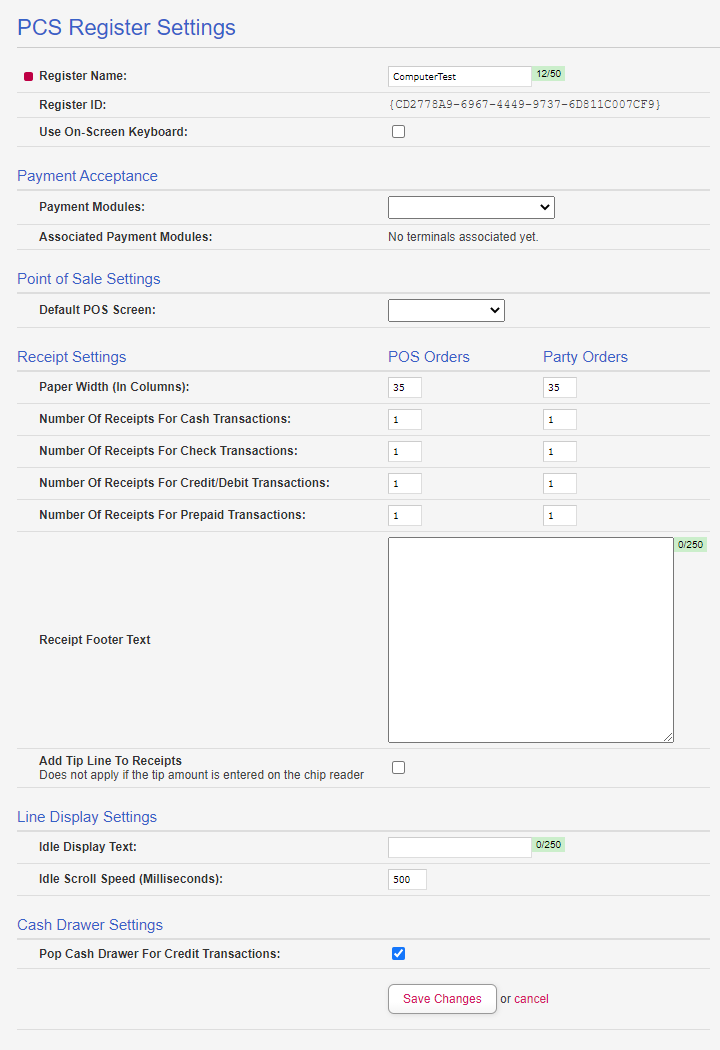 Here is a description of these settings:
Register Name: The internal name for the specific register. Since registers can't be deleted after they are created, consider renaming old registers.
Register ID: The internal ID for the register; cannot be customized.
Use On-Screen Keyboard: If checked, a new window will appear when editing cash amounts. This may speed up the process for ringing a customer up, or helping perform change calculations.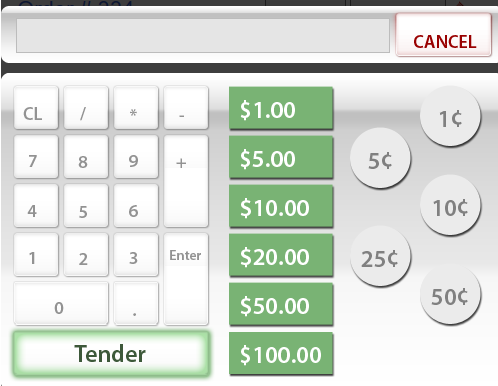 Payment Modules: This is used to assign credit card readers to a specific terminal. There will be a list of payment modules associated with your system within this drop down menu.

Associated Payment Modules: After a payment module is selected, this field will show the available EMV readers. Selecting a reader will pair it with this station.

Default POS Screen: You can choose which POS screen appears by default on this station.
Paper Width: This lets you modify the width of the receipt, by changing the number of columns that are able to appear on it.
Number of Receipts: Every time a transaction is made at this station, you can specify how many receipts are printed for each individual type of transaction. Entering a zero will not print any receipts for that transaction.
Receipt Footer Text: This text will be included at the bottom of the receipt.
Add Tip Line to Receipts: If checked, an extra line will be included for a tip. If you are using the Tip on Device feature, this will be disabled by default.
Idle Display Text: If using a pole display, this is the text that appears while the station is idle.
Idle Scroll Speed: If using a pole display, this is the speed the idle text scrolls at.
Pop Cash Drawer For Credit Transactions: If checked, the cash drawer will pop on credit transactions. Otherwise, it will remain closed.
After that, just click the "Save Changes" button at the bottom of the screen and you're done!