Setting Up Your Vendors
It is imperative that you complete this step before going on to Managing Products!
From the Admin screen:
Under Product Management select Vendors
Select Add a Vendor
Fill in the Vendor information
   Existing Vendor Screen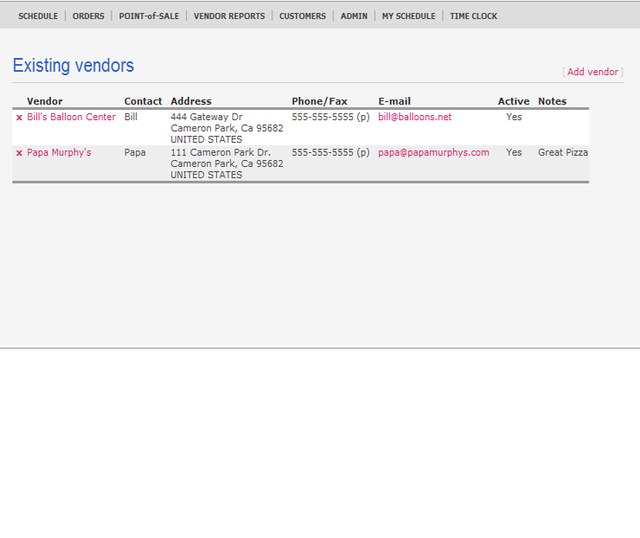 Add New Vendor Screen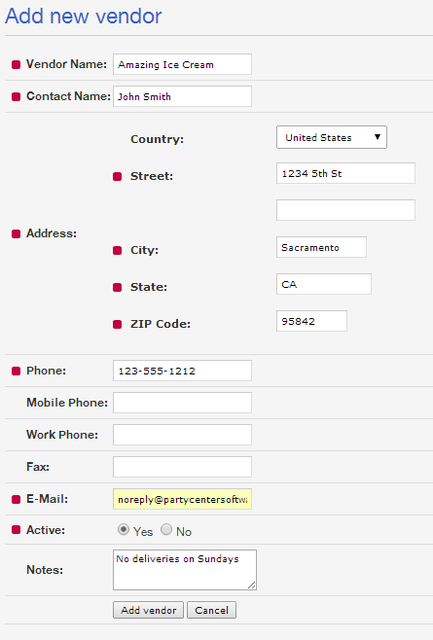 Vendor Name - The name of the product vendor as you want it to appear in the system and on reports.
Contact Name - The main contact person at the vendors facility for your employees to contact.
Address - Vendor physical address. Country, Street, City, State, Zip Code
Phone - The main contact line for this vendor.
Email - Email address for the vendor or main contact for reports and orders to be sent to.
Fax - The main fax line for the vendor.
Active Radio Button - Set the vendor to active status or inactive.
Notes- Any additional notes that should be considered with this vendor. Example: All pizzas must be ordered 30 minutes prior to delivery time.
Select Add Vendor to save them to your vendor list.
At any time you may edit a vendor by going to the "Manage Vendor" screen and clicking on the name of the vendor.
Select Edit Information to change any of the vendor's information or to set the status to Active or Inactive.