Go to the Admin screen and click Checklist Items.
You will now see the In House Party Orders tab, Online Party Orders tab, and the Online Store Orders tab.
The checklist is now associated with different party types. You can create checklist items for In House Party Orders and for Online Party Orders. This means if someone books online it will add different items than events booked in house!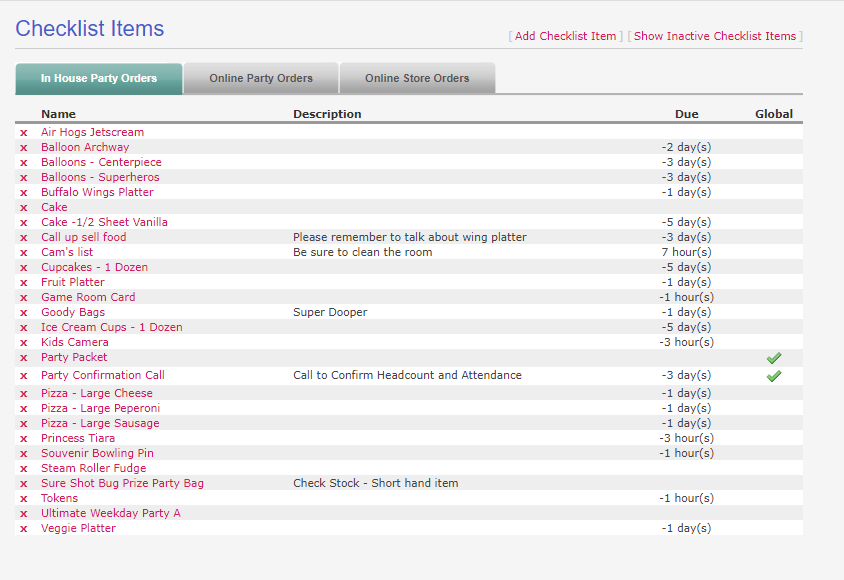 Click Add Checklist Item in the top right
Fill in the information required.
Name - The name of the checklist item
Description - This will show up in the notes field as instructions for this item
Applies To - This specifies what type of order this checklist item will apply to (In House, Online, Online Store)
Global - This is used if you want this to show up on every event order of that type.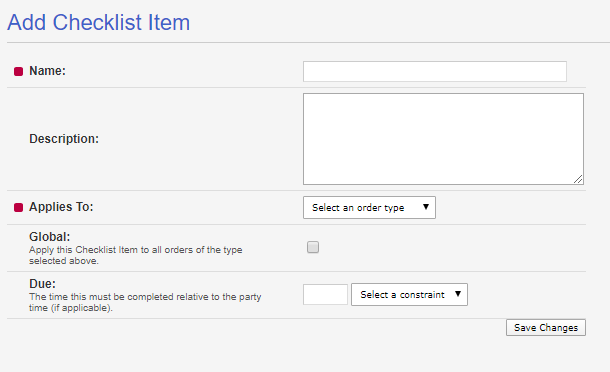 For example: I want a Confirmation Call to show up on every Online Booking order. I will make an item named Confirmation Call and mark it as a Global Item. This way no matter what event is booked or what items are added this checklist item will always show up!
Complete By: - This is the amount of time from the Party Date that you want this to be completed. This is also the time when your order will populate the checklist item. If the checklist item needs to be populated/completed 3 days prior to the Party Date, enter -72 hours or -3 days.
If you did not make this a global item You will now see a widget on the right with all your products listed. You can select as many products as you want to associate to this item. If you select an item, anytime that item is booked or purchased the checklist item will be added into the checklist.